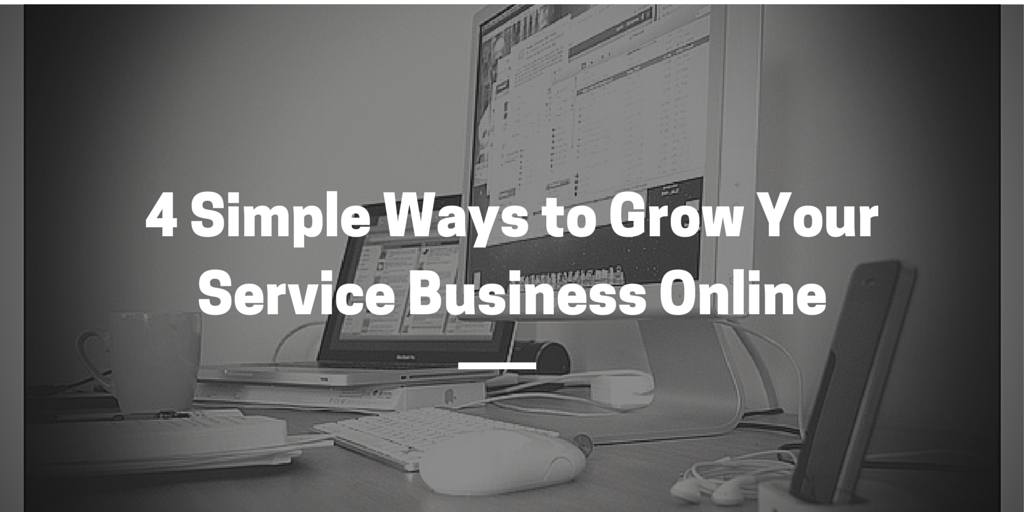 feature
---
Not sure how to crack the online marketing code?
Perform a Google search for online marketing and you'll find lots of great resources, detailed advice, and advanced marketing strategies. But you're left to your own devices to sift through it all and figure out what's relevant to your business.
The good news is, as a service business, online marketing doesn't have to be complicated. You don't have to obsess over things like analytics, conversion rates, and search engine optimization. In fact, when you're just starting out, it's best to not even think about those things at all.
In my latest post on the Duct Tape Marketing blog, I share four strategies that are working really work for service businesses today.
Newsletter – This is first on the list because it's the easiest to get started with. Clients come to you because you know something they don't. Offer to educate them and provide answers to common questions on your newsletter and you'll earn the oppurtunity to build a business relationship with them over time.
Guest Blogging – Once you have an effective newsletter in place, you'll need to find a way to get the word out beyond your existing network of clients and colleagues. This is where guest blogging becomes a powerful strategy. Find popular blogs or publications in your niche and offer to write insightful articles for them. To see this strategy in action, check out my guest posts on Duct Tape Marketing and Hinge Marketing.
Podcasting – Podcasts are all the rage these days. It's an exploding medium that will soon be a mainstay for online marketers — much like blogging is today. But you don't need to get in front of a mic and ramble for 15 minutes to launch a podcast. In fact, one of the most effective strategies is to host an interview podcast that features thought leaders in your industry. Not only will they create content for you, they'll also lend you some of their authority in the process.
Online Courses – This one is fairly new on the scene. Online learning is taking off as an industry of its own, but what does it have to do with professional services? It's simple: when clients aren't ready to buy, offer to educate them with a free or low-priced online course. The act of teaching — which is one of the most valuable skills possessed by high-performing sales people — will demonstrate your expertise, build extreme trust, and position you as a trusted authority.
You don't have to do all four at once — in fact, you probably shouldn't. You'll have better luck if you start with just one strategy and slowly add others as you gain experience and refine your skills.
Check out the full post on the Duct Tape Marketing blog for real life case studies so you can see what each strategy looks like in action.
Further exploration:
marketing
---
7 Questions to Tackle Any Marketing Problem
We tend to think the more complicated, fancy, and complex marketing strategies are the ones that will have the most impact.
But more often than not, good marketing comes down to answering a few simple (but not easy) questions.
WHO are you trying to reach? (If the answer is 'everyone', start over.)
HOW will they become aware of what you have to offer?
WHAT story are you telling/living/spreading?
DOES that story resonate with the worldview these people already have? (What do they believe? What do they want?)
WHERE is the fear that prevents action?
WHEN do you expect people to take action? If the answer is 'now', what keeps people from saying, 'later'? It's safer that way.
WHY? What will these people tell their friends?
sales
---
How to Sell With Stories
Novice sellers try to argue their way to a deal by making a series of logical propositions that — if agreed upon — should result in a transaction.
Expert sellers know that persuasion isn't just about presenting the facts — isn't about clothing those facts in a compelling and emotional story.
In this post, Ian Brodie explains the value of story telling in the business development process and offers some practical tips to weave story telling into your sales pitch.
Contrast these two different introductions:

"We work with all the leading consumer goods companies. Our six-sigma and lean manufacturing services can save you at least 10% of your operating costs and cut 20% from your lead times"

and

"We recently worked with John Smith, the CEO of BigPack. John's problem was that because of the long changeover times, his production was very inflexible and he couldn't respond quickly to the needs of some of his best customers and so he was losing market share hand-over-fist. By working with us using our lean manufacturing and six sigma methodology, he was able to offer the sort of flexibility his customers were crying out for – and as an added bonus, he found that running costs were 10% lower than before."

Admittedly, the second introduction is a few sentences longer – but those extra sentences – and the way the whole introduction is worded – make a world of difference.
growth
---
Why You Should Manage Energy, Not Time
This may sound like heresy to the professional who lives and breathes billable hours. But regardless of how you bill your clients, there are only so many hours in the day. Eventually, you run out.
The number of hours in a day is fixed, but the quantity and quality of energy available to us is not. It is our most precious resource. The more we take responsibility for the energy we bring to the world, the more empowered and productive we become. The more we blame others or external circumstances, the more negative and compromised our energy is likely to be.
We've all experienced times when we're at our best, firing on all cylinders, and seem to get more work done than we could imagine. But we've also experienced times of the day, or days of the week, where no matter how much you try to focus — nothing meaningful gets done.
It's naive to assume that you have the same amount of energy at any time of day and under any circumstances. Every hour and every day is different.
Instead of constantly fighting the clock, find ways to renew your energy levels and get more out of the time you have.