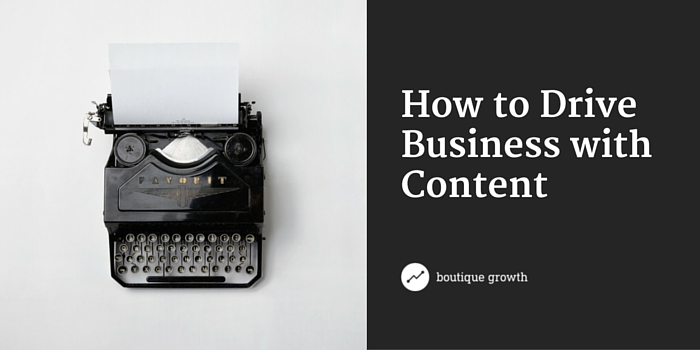 Joe Pulizzi is a trail blazer.
As Founder of the Content Marketing Institute, Joe is a content marketing evangelist who hosts the industry's largest annual conference and advises the likes of KPMG, LinkedIn, Oracle, AT&T, and more.
The rise of the Content Marketing Institute and the way Joe lead the revolution in how we think about marketing is a powerful case study.
But what's perhaps more interesting than what Joe built is how he built it.
How to Build a Business With Content
Joe's latest book, Content Inc, details the step by step process he followed to build the Content Marketing Institute to where it is today.
But it's not just about him. This is the same process that brands like Copyblogger Media, Moz, OpenView Ventures, and many more have adopted on their way to becoming multi-million dollar businesses.
And it's the same process you can follow to build a content marketing engine that consistently drives new business for your firm.
Here's how it works:
#1 – The Sweet Spot
Where do your knowledge and passion intersect?
Whatever you're going to talk about — you have to be both an authority on the topic and passionate about it.
This might seem like a straightforward decision because you've already chosen your profession. That's your sweet spot, right?
Wrong.
Accounting is not a sweet spot. Law is not a sweet spot. Management consulting is not a sweet spot.
Those are industries. Sweet spots are the intersection between what you know really well and what you're passionate about.
For example, let's say you're a small business consultant. You could offering any of the following services for your clients:
Branding
Search engine optimization
Google Adwords
Blog writing
Print advertising
It's impossible to be knowledgeable and passionate about all of those service areas. There's probably 1 or 2 of them that you know really well and you're passionate about.
That's your sweet spot.
#2 – The Content Tilt
Now that you've found your sweet spot — how are you going to tackle the topic? What unique perspective are you going to contribute?
In other words, why should anyone bother listening to you?
You need to contribute something unique to stand out. But unique doesn't mean you have to do something that no one else is doing — it just means you need to bring a different angle or perspective to the conversation.
Otherwise, you'll quickly get lost in the noise.
#3 – Building the Base
This is where the rubber hits the road. Joe recommends picking one type of content to begin with, deciding on a platform, and choosing a frequency.
The options are limitless: blog posts, email newsletters, podcasts, videos, LinkedIn publishing, etc.
The key here is to pick one format and run with it. You'll be tempted to try multiple platforms in the hopes that your audience will grow faster.
Don't do it. Publishing content consistently is hard work. Focus on one platform until you start seeing tangible results. Then you can branch out and try new things (see Step 5).
#4 – Harvesting the Audience
Now that you've got some content — you need to get it in front of people.
This is where most people get stuck.
If you're an authority in your field, which is kind of a pre-requisite to all this, publishing content shouldn't be too hard.
It's much harder to get the audience to pay attention when they're already being bombarded with information.
How can you convince them to take you seriously?
Make them an offer they can't refuse. People are skeptical about giving away email addresses because they've been burned before. Find out what it's going to take to get your audience to give up their email address. Then give it to them.
Deliver value consistently. It's just as easy for people to leave your list as it was for them to join. People will join your list with certain expectations. It's up to you to understand those expectations and deliver on them every single time.
#5 – Diversification
Now that you've got a strong content channel that getting results, how can you take your efforts to the next level?
It depends.
Your existing channel might already be generating more than enough business. You can stop there if you'd like.
But if you want to take it to the next level, you have two choices:
Choose another topic. Perhaps you want to branch out into a different service area or a different target market. You can do that by launching a different blog, podcast, or video show for that audience.
Choose another medium. If you're comfortable with your sweet spot and content tilt but just want to amplify your reach, add another medium. If you're writing, try podcasting. If you're podcasting, try video.
#6 – Monetization
For service providers, this last step is easy. You monetize by charging money for your services.
But as your content begins to pick up steam, you will get to a point where you can't service any more clients. There are only so many hours in the day.
Sure, you can hire more staff. But you can also package your knowledge and expertise into paid courses.
Courses are an excellent additional revenue source because:
They cater to the do-it-yourself crowd. These are people who probably wouldn't hire you but will pay for a course to learn how to do it themselves.
They provide a lower risk product for prospects to try before hiring you for an engagement. If they like the course, they're more likely to want to do business with you.
Warning: This is NOT for everyone.
If you've made it this far, you're probably overwhelmed by the amount of work required to pull this off. And the truth is, most people won't be able to do this.
But that's exactly why you need to do it.
Need some help? Leave a question or comment at the bottom of this page.
---
To learn more about Joe Pulizzi's new book, Content Inc, check out these links: