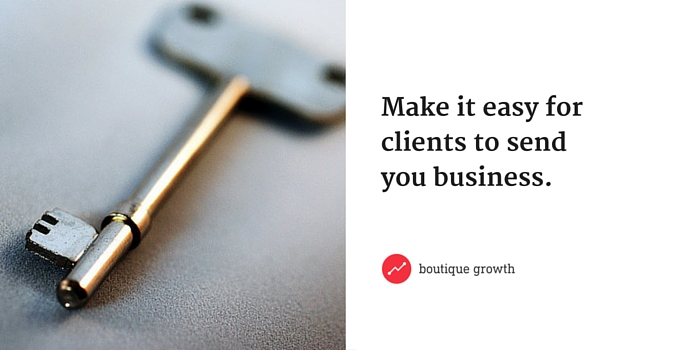 Most referral advice boils down to two simple (and simplistic) ideas:
Be really good at what you do, because clients don't send referrals to average professionals.
Ask for the referral, because clients need to be reminded that you want one.
But beyond the obvious, what else can you do to get more referrals?
Marketers often forget to look at this from the consumer's point of view. Why on earth should I give you a referral? Yes, I know it's important to you, but why is it important to me?" — Seth Godin
Here are 3 ideas to remove friction from the referral process:
1 – Tell a good story
Believe it or not, clients aren't tripping over themselves to send you business.
When your client is talking to a potential referral, there has to be an easy way to bring you up in conversation if you want any hope of being mentioned.
Oh speaking of lawyers who go against the grain, you should talk to my tax lawyer. This guy can get around every rule in the book."
Does your story evoke that kind of reaction? What would your clients say about you to others?
If you're not sure what they'd say, there's your problem.
2 – Give a gift
Ever been to one of those friends and family sales at a clothing store?
Retail stores often have these special sales for their staff and customers' friends and family — in other words, whoever finds out about the sale.
The strategy is simple: if you announce a sale that's available only to your customers, they'll probably come by themselves.
But if you make that sale available to anyone who comes with them, they're more likely to bring their mom or a friend with them.
The magic here is that making the referral becomes an obligation. It would be selfish of you to keep the sale to yourself.
Find something valuable for your clients to offer their friends and colleagues.

Not only will they be more likely to make the referral (by passing on the gift), you'll make them look good in front of their network — which makes you look good in front of them.
3 – Reduce the risk
There are two ways referrals can be risky:
The risk of you disappointing the referee.
The risk of the referee disappointing you.
In both cases, the referrer (your client) has everything to lose. This is why low risk referrals happen more often than high risk ones.
To earn more referrals, you need to find a way to make the referral process less risky for your client. Here are a few ideas to think about:
Formalize the referral process. When you participate in a referral network, you're more likely to get referrals because there is incentive to send business your way. You'll definitely get more referrals this way — but they won't be as good.
Provide free educational content. Host a workshop at your office, write a free report, deliver a webinar — do something that your clients can invite people to. It's not a sales pitch, it's just a free piece of education. No risk.
Host a dinner or luncheon. Take out your chequebook and host a special event for your clients and their guests. Bring in a keynote speaker and show everyone a good time. This is expensive, but it can pay for itself if you're smart about it.
What's holding your clients back from making referrals?
There's no silver bullet here.
You have to identify what's stopping your clients from making referrals in order to remove any obstacles that are getting in the way.
Do they just need a reminder? Is there something you can do to facilitate?
In this case, asking them what would help probably isn't a good idea. Come up with a few solutions of your own and start testing them to see what works.
More on referrals:
Flickr creative commons image via Phillippa Willitts.