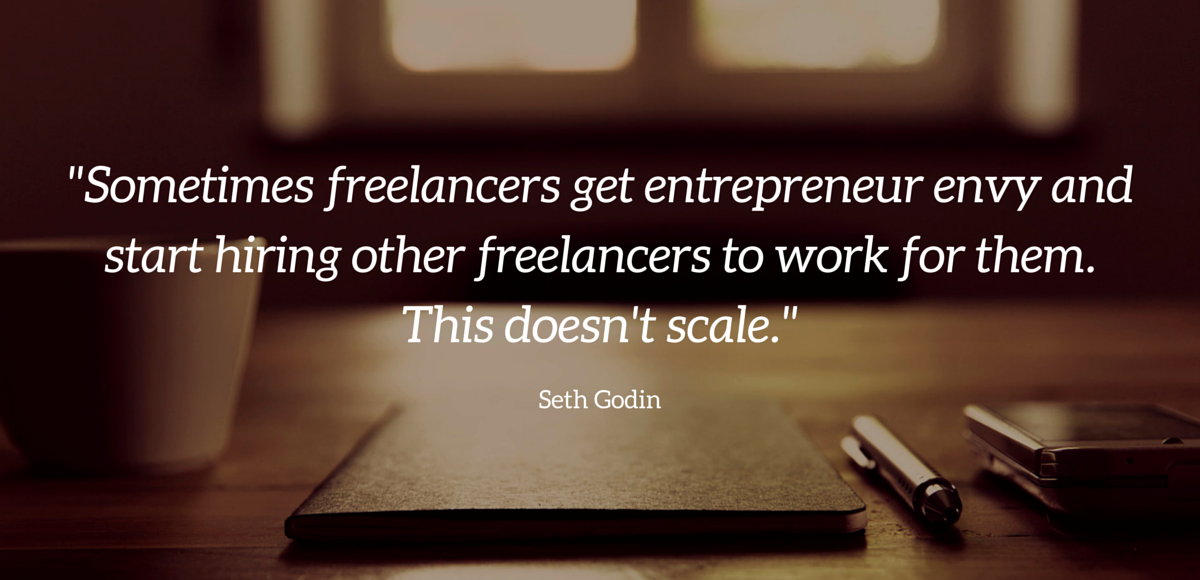 Seth Godin says that making the distinction between freelancer and entrepreneur is critical to the success of your business.
Freelance professionals get paid when they work. Clients hire them and expect to work directly with them. They have a hard time scaling because they're the ones doing the work (sound familiar?).
Entrepreneurs build businesses bigger than themselves. They hire people and build systems that can replace them. Their job is to run and grow the business, not do the work.
If you're the person running McKinsey, you better not be doing any business consulting. You better be an entrepreneur who's running a firm of freelance consultants — of which you take a cut… it is possible to organize some freelancers and make a business out of it, but the person doing the organizing is an entrepreneur." — Seth Godin
Every professional services leader has to confront this question eventually. When there's more business coming in than you can handle — you have a decision to make. Hire more people or turn down the work.
Most will opt to hire. And that's fine, as long as you recognize you're making the leap to entrepreneur, you're okay with the consequences, and you stop acting like a freelancer.
As Seth Godin explains in this interview on Hack the Entrepreneur, he's done both. But he discovered that he didn't like being an entrepreneur very much (despite selling his company for $30 million). He's a freelancer at heart.
There's no right answer. You can choose to be a freelancer or an entrepreneur — and you can change your mind if you don't like your choice.
But you can't be both.
The trap is simple: Sometimes freelancers get entrepreneur envy and start hiring other freelancers to work for them. This doesn't scale. Managing freelancers is different from being a freelancer. Managing freelancers and saving the best projects for yourself gets you into trouble. The cash flow gets you into trouble." — Seth Godin
Click here to listen to Seth Godin's interview on Hack the Entrepreneur.
So which one are you? Do you see yourself as a freelancer or an entrepreneur?
Flickr creative commons image via markus spiske.