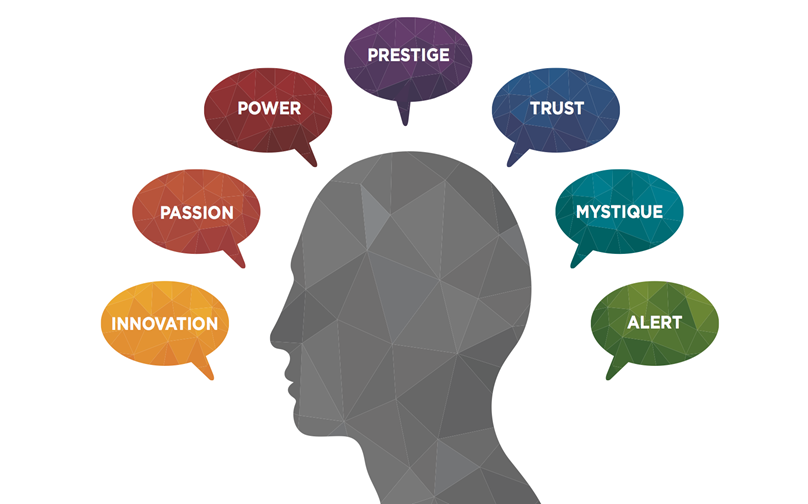 I remember listening to Sally Hogshead talk about the 7 triggers of fascination at The Art of Marketing in Toronto way back in 2010.
5 years later, she's still talking about fascination, but now with a new book and a whole set of fancy tools to go with it.
Sally's research over the last two decades has explored the relationship between fascination and decision making regarding brand choice, careers, and relationships.
Among other things, she's been searching for an answer to the question:
What makes some people more fascinating than others?
The high performers within organizations and small businesses know exactly how they add value and they have a specialty. In other words, they're not trying to be all things to all people. They don't water down their communication. They're very clear that they specialize in one specific form of communication. They're not trying to be great at everything. They're trying to be extraordinary in one particular way."
When you're fascinating, people hang on your every word. They're captivated by you and eager to hear what you have to say. You have their undivided attention for as long as you can keep it.
As a result, it's no surprise that people who have a high propensity to fascinate are able to win more deals, build lasting customer relationships, and charge more for their services (up to 400% more according to Sally).
How to Discover Your Fascination Advantage
Fascination has the ability to produce intense focus — that feeling you've lost track of time since you've been completely drawn in to one activity. Fascination enables you to get the emotional response you want."
When you're at your best, people see you in a certain light. There's something about you, the way you carry yourself, and the way you communicate that naturally attracts people.
If you can identify the specific cause of their fascination, you can begin to focus on the areas where you know you excel, instead of leaving your communication to chance.
The good news it shouldn't be too hard to figure out what your fascination advantage is. Sally's research has narrowed it down to one of the following:
#1 – Innovation
These are the people who are always coming up with new ideas. Their personalities are creative, visionary, and entrepreneurial. They tend to have more ideas than they know what to do with. They're often labelled 'early adopters'.
#2 – Passion
Some people are just better at building relationships than others. If passion is your advantage, you can quickly build rapport with other people. You're expressive, intuitive, and engaging. People are drawn to you and feel a personal connection with you almost instantly.
#3 – Power
Type A personalities have a natural advantage if they use it right. The power advantage belongs to people with strong opinions who don't shy away from sharing them. These extroverts tend to guide conversations because they know exactly what they want and don't waste any time getting to the point.
#4 – Prestige
Are you the kind of per person who thrives when you have the upper hand? Prestige types are ambitious, goal oriented, and super-competitive. They can't stand losing, ever. If they're not on top, they're uncomfortable, irritable, and kind of a mess.
#5 – Trust
Ever worked with someone who seemed more concerned about everyone else than themselves? That's the trust advantage. These people are focused, dependable, and solid as a rock. They tend to be very well liked because they avoid conflict and are solution oriented.
#6 – Mystique
Do people call you mysterious? Do you tend to under communicate and edit your ideas before speaking? Do you always leave people wanting more? Despite their frustration, people are naturally intrigued by mysterious personalities.
#7 – Alert
These are the people you'll want to hire for those 'detail oriented' jobs. Alerts are proactive, organized, and structured in their work. They keep tabs on the small things to make sure the big things stay on track. They're not, on the other hand, the kind of people you want calling the shots in times of crisis.
---
If you're anything like me, when you read these you saw yourself in almost all of them. But that's a trap.
This isn't about who you want to be, this is about who you are.
Your personality is pre-disposed to using one of these advantages. When you're at your best, you're communicating with one of these without even thinking about it.
If you can figure out which one, you can focus on getting better at using the advantage that already comes natural to you, instead of trying to be all things to all people.
Curious yet? Take the test to find your fascination advantage.
Who doesn't love a good personality quiz?
Sally has built a 28-question assessment to help you identify your primary and secondary fascination advantage. It shouldn't take you more than 5 minutes to complete.
The quiz usually costs $37, but Sally was kind enough to give away a free code (copyblogger) on this episode of Rainmaker FM's The Lede.
>> Click here to take the test (code: copyblogger) <<
Want to learn more? Pick up Sally's new book and check out these awesome interviews:
Image courtesy of How to Fascinate by Sally Hogshead.