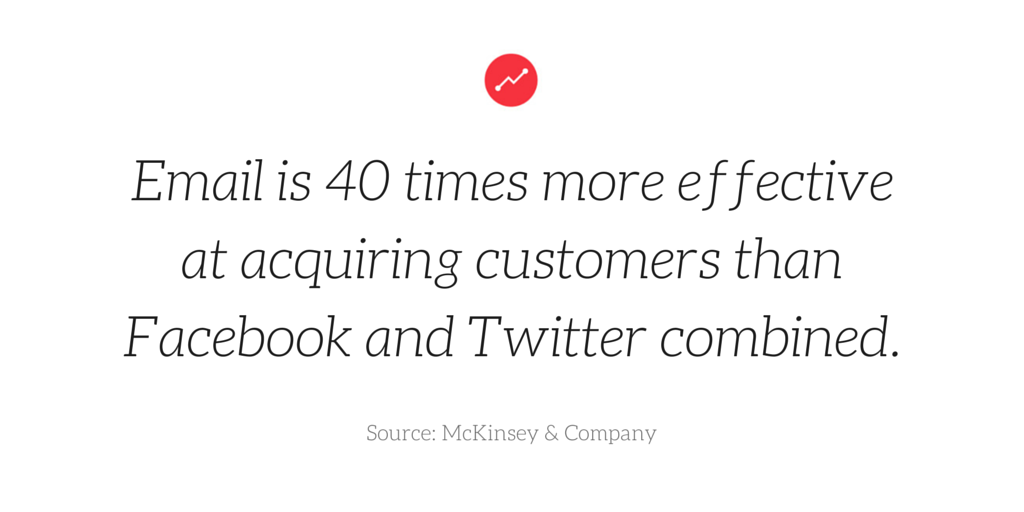 When most professional services firms wake up to the potential of online marketing — what's the first thing they do?
After throwing up a simple website — they quickly move to 'getting the word out' by creating a LinkedIn page, Facebook page, or a Twitter account.
They unknowingly assume social media will generate, nurture, and win business for them — while ignoring a marketing channel proven to be 40 times more effective at winning business.
E-mail remains a significantly more effective way to acquire customers than social media—nearly 40 times that of Facebook and Twitter combined. That's because 91 percent of all US consumers still use e-mail daily, and the rate at which e-mails prompt purchases is not only estimated to be at least three times that of social media, but the average order value is also 17 percent higher." — McKinsey & Company
How can email be 40 times more effective at acquiring customers than social media?
Email delivery is guaranteed. When you post something on social media, most of your followers probably won't see it because there's too much noise. But email delivery, assuming you get through the spam filters, is guaranteed.
The inbox is a sacred space. Email is where real work gets done. People only let marketers into their inbox when the benefit ties directly to their work. That's why best way to get into the inbox and stay there is to deliver valuable content that solves actual problems.
Relationships are built via email. Buyers have their own timeline. But if you're consistently showing up in their inbox and delivering value — you'll quickly develop a reputation as an expert problem solver. That'll go a long way when it's time to make a buying decision.
Social media can be effective at getting the attention of potential customers — but it's simply not powerful enough on its own to generate business.
By adding email marketing to the mix, you can leverage the scale of social media while giving your followers a simple way to take the relationship to the next level.
Need some help getting started with email marketing?
Check out these resources:
Ready to launch your email newsletter?
Click here to download our email newsletter planning worksheet and answer the 5 most important questions to your newsletter's success.