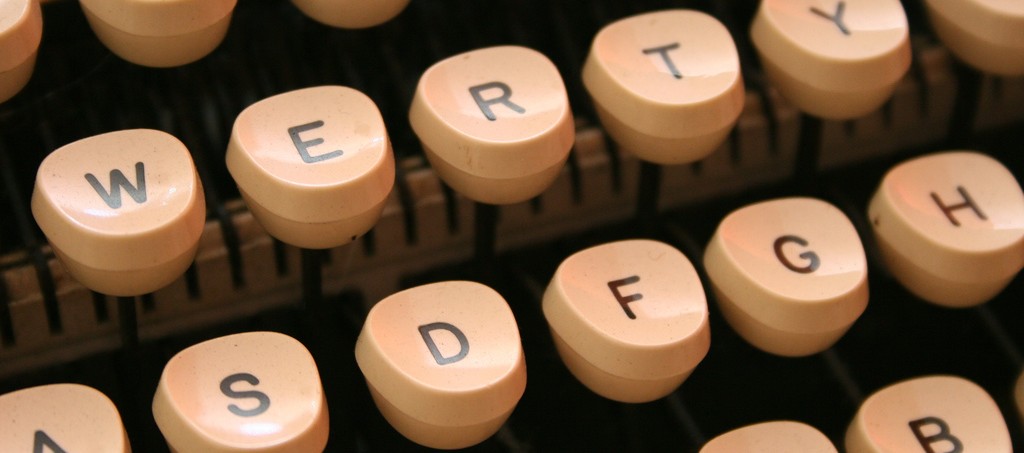 You're skeptical, I get it.
At first glance, blogging looks like a gigantic waste of time. It requires serious dedication to consistently write useful blog content. And it's not terribly clear why you should even bother.
How can hammering away at the keyboard, in front of a screen, for hours on end somehow generate business for your firm?
It almost sounds absurd. Yet that's exactly what some of the highest growing firms in every industry are doing.
Either the firms surveyed, whose revenue ranged from $1 million to $5 million annually, are all completely out of their minds — or they're onto something.
While the strategies employed by leading firms are more complicated than a writing a simple blog — blogging is and always has been the backbone of a sound content marketing strategy.
Here's why:
---
#1 – Improve website conversions with engaging content that turns casual prospects into serious leads.
Your current sales funnel probably looks a lot like this right now:
Awareness: Prospect hears about you through a referral from a client.
Consideration: Prospect contacts you to see if you'd be a good fit.
Purchase: Prospect decides to hire you after evaluating your proposal.
It works like a charm when there's a steady flow of new prospects reaching out. But what happens when the inquiries stop coming in?
It usually means you're not generating enough interest (through referrals, etc) or you're not giving prospects a good enough reason to get in touch.
Your website probably stops a ton of prospects dead in their tracks because it does a terrible job communicating why prospects should work with you.
A professional biography, list of services, and some scattered client testimonials aren't enough to turn casual prospects into serious buyers.
If a prospect is going to go to the trouble of contacting you, they need to be sure it's going to be worth their time.
The best way to show buyers you know what you're doing is by demonstrating what you're capable of on your blog.
Example: Let's say a prospect has to choose between getting in touch with two firms. On paper, both firms have similar capabilities and experience. But one firm has an active blog where they discuss common problems their clients face, while the other has a very basic website with some professional profiles and a list of service areas. Who's more likely to get the call?
Don't forget, for every prospect who's ready to take action there are probably another 9 who are just browsing.
Without a blog, there's not much you can do to build a relationship with casual prospects. They'll browse your website, find nothing particularly useful, and probably never come back.
When the time comes to hire a professional, they may remember you… but most likely they won't.
With an active blog, instead of forcing casual prospects to contact you (which they won't), you can ask them to subscribe to receive more of your problem-solving articles.
Over time, as they consume more of your content, not only will you remain top-of-mind — but you'll effectively make the case for why they should do business with you and not someone else.
Bottom Line: A well-executed blog differentiates you from the sea of other professional services firms and transforms casual prospects into highly qualified buyers who are ready to take action.
---
#2 – Build an endless pipeline of high quality leads that never stops giving, for free.

Johnny's got a problem and you've got the solution. But Johnny doesn't know you and you don't know him.
This poses a problem.
What if there was some magical way for Johnny to stumble across your website and discover your services? What if there was someone who knew you and Johnny who could connect both of you in a mutually beneficial relationship?
That someone is Google.
Google's job is to provide searchers with relevant information. Their algorithm sorts through all the clutter to uncover the really useful content that searchers are looking for.
Your prospects use Google to find information, insights, and service providers all the time. Depending on what stage they are in the buying process, their search terms may look different.
Example: A motivated buyer who is looking for the right professional might search for "seattle franchise lawyer". Whereas a buyer who is still doing their homework might search for "franchise law washington."
How important is it to rank highly for the keywords relevant to your business?
On average, 71.33% of searches result in a page one organic click. Page two and three get only 5.59% of the clicks. On the first page alone, the first 5 results account for 67.60% of all the clicks and the results from 6 to 10 account for only 3.73%." — The Moz Blog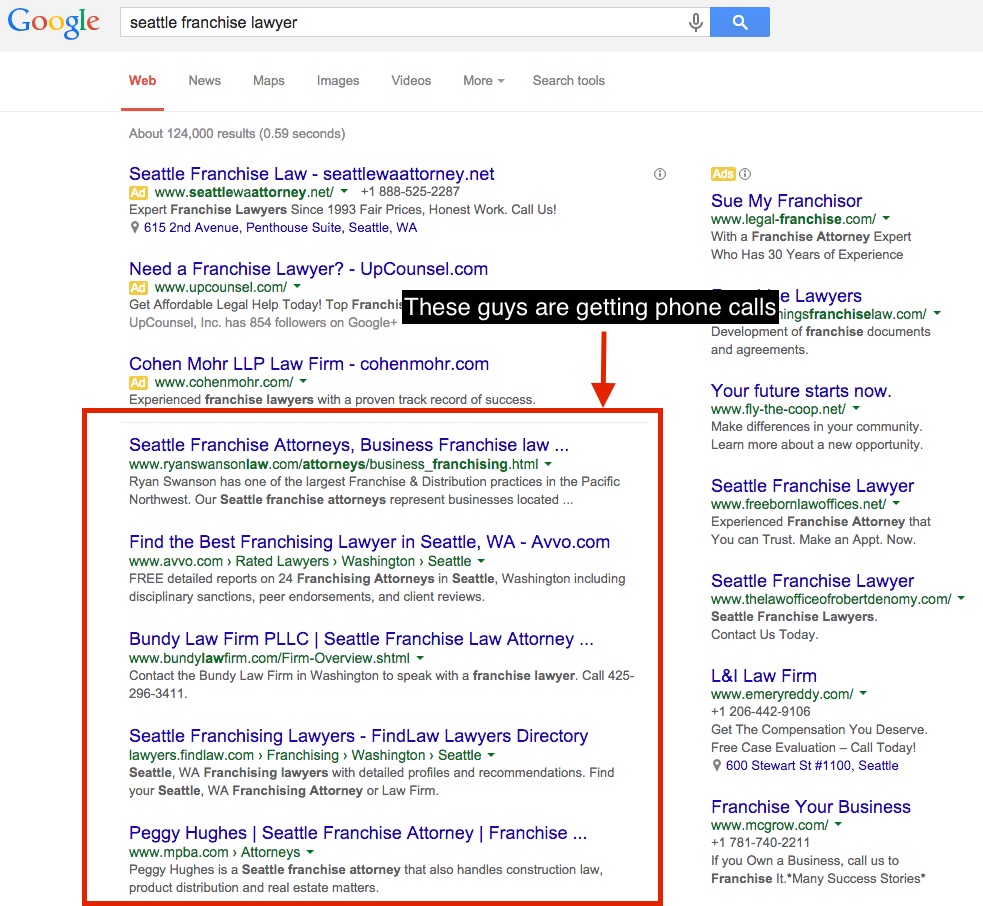 Is it easy to get your content on the first page of a Google search? Absolutely not. Unless you're buying ads — it takes time, patience, and a little bit of skill.
But here's the good news: most of your competitors aren't willing to do the hard work of publishing consistently useful content. They're not going to invest in a process that might take months before it starts producing results.
They're simply too short-sighted for that. At most, they'll try taking shortcuts that won't work in the long run.
And that's where the opportunity lies for you.
Bottom Line: Showing up on the first page of Google is like throwing a massive billboard in your prospect's face at the exact time that they're ready to buy — at absolutely no cost to you.
---
#3 – Leverage the power of social media to connect with prospects you'd otherwise never be able reach.

When you show up to a networking event, do you just stand there eating cheese and crackers hoping someone will come talk to you?
I hope not.
You probably do your best to get out there and make conversation. You think about interesting things to say to people in advance. You ask intelligent questions and try to be as friendly as possible.
In other words, you try to be interesting. Because no one wants to talk to the boring guy eating all the crackers.
There's an art to being interesting. But at the very least you have to be prepared for a conversation. This is the cardinal sin most professionals are guilty of on social media.
They're at the party. They're all dressed up. But they've got nothing interesting to say.
Showing up is not good enough. You can't just setup a basic LinkedIn profile or Twitter account and expect new business to land on your lap.
The currency of social media is content. Take a quick scan at your LinkedIn and Twitter feeds… what are people sharing? CONTENT.
The question is: how can you create content that people will share?
There's no easy answer. You have to put your ideas out there, let people interact with them, and observe what works and what doesn't.
But I can promise you this: if you're not creating content, it's not going to get shared.
Bottom Line: Done well, great blog content will drive targeted social media traffic back to your website and give you exposure to prospective clients that you otherwise wouldn't be able to reach.
---
What's holding you back?
Are you not convinced yet? Or maybe you're just not sure where to get started?
Leave a comment below and let me know where you're stuck.
If you need some extra help, here are some excellent resources to take a look at:
Flickr creative commons images via April Killingsworth, Sean McEntee, and bookwyrmish.