What You'll Get Inside the Course
Lesson 1 · Profile

Do you know who your ideal client is? The first step to generating more leads is crafting a clear and specific profile of the buyer you want to work with. This is where the battle is won or lost.

Lesson 2 · Problem

Your buyers are overwhelmed. To cut through the clutter and get their attention, you need to solve a problem that's weighing on their minds. If you pick the wrong problem, you will get ignored.

Lesson 3 · Promise

The best way to get your buyer's attention is to make a big bold promise that they can't ignore. If you do this right, you'll earn the opportunity to build a relationship and position yourself for the sale.

Lesson 4 · Proof

Anyone can make claims. But buyers only pay attention to firms that can back up their claims with proof. Without it, buyers won't give you the benefit of the doubt.

Lesson 5 · Push

To win deals, you need to push for the sale. If you get this step wrong, you'll have a lot of leads but no clients. And that would be a real shame.
Get immediate access (FREE)
---
About Your Instructor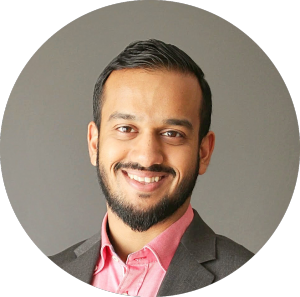 Hi there! My name is Ahmad Munawar.
I'm a Chief Marketing Officer for boutique professional services and consulting firms. Over the years, I've helped hundreds of firms, just like yours, get on the fast track to the top of their industries.
My work has been featured in leading marketing publications including Professional Services Marketing Today (by Hinge Marketing), Duct Tape Marketing, Copyblogger, and more.
"The 5 P's of Lead Generation for Professional Services Firms" is a framework I developed to take the guess work out of generating new business.
This course is not about tactics. It's not about chasing the latest tool or platform. And it's not about some shiny object that will double your business overnight. It presents a step by step process you can use to grow your firm now and into the future.
If you're ready to get started, join us inside the course by filling out the form above.